Nepal helicopter stranded in Sittwe airport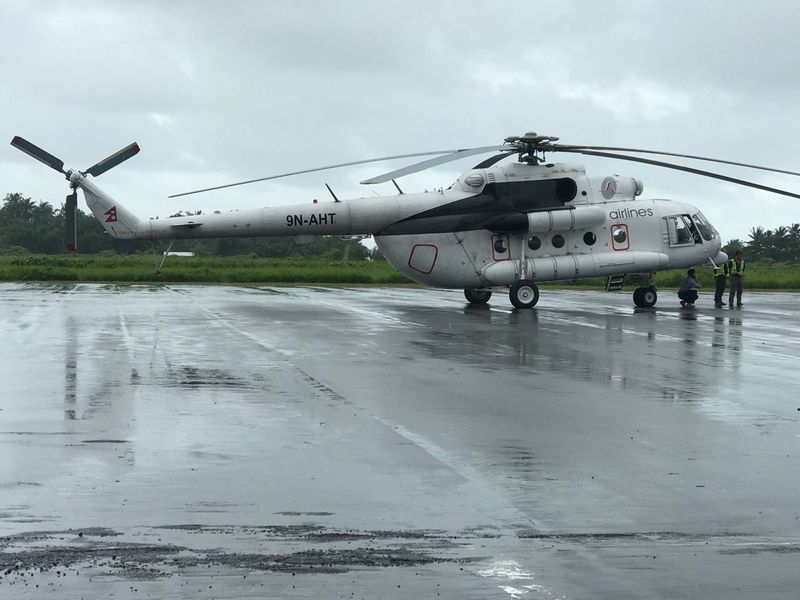 Narinjara News, 7 September 2019
A helicopter from Nepal is stranded in Sittwe airport since yesterday due to the bad weather in western Myanmar.

Earlier the helicopter temporarily landed on a grazing ground at around 11 am between Sitaung and Rakhaung Chaung village under Buthidaung township in Rakhine State.

For some time, the localities between Buthidaung and Rathidaung have turned into battlefields where Myanmar Army (Tamadaw) personnel have been fighting against Arakan Army (AA) members. Luckily the helicopter
did not face any unwanted incident.

As the weather improved, the helicopter left the place and soon arrived at Sittwe airport by 11.50 am. By 2 pm on 6 September, the helicopter left for Yangon but it had to return back to Sittwe after 27 minutes flight because of turbulent weather.

Crew members of the helicopter are staying at a Sittwe hotel under tight security covers, informed Rakhine State police officer in charge Yaymugyi Kyi Lin.

According to the government source, the Mi-8-MTV-1 type helicopter with registration no/call sgn: 9N-AHT from Nepal was on its way to Indonesia where it would assist the local forces there in extinguishing the forest fire.

The helicopter had to make an emergency landing following the turbulent weather and it had already asked for the official permission to enter Myanmar airspace and have a stopover at Yangon international airport from the transport & communications and foreign affairs ministry of the Myanmar Union government through the Indonesian Embassy in Yangon.

Meanwhile, the Rakhine minister for security and border affairs along with other responsible officers met the crew members and assured necessary assistances to them.