Arakanese community staged protest in Tokyo as State Counselor Suu Kyi visits Japan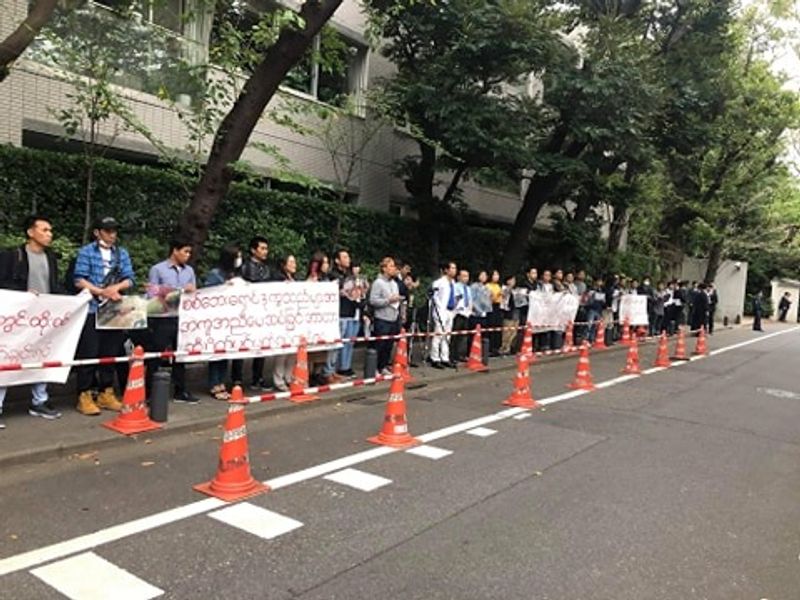 Narinjara News, 22 October 2019

Around 100 Arakanese nationals in Japan staged a demonstration against the visiting State Counsellor Daw Aung San Suu Kyi in front of the Myanmar embassy on 21 October.

The hour-long demonstration took place between 3 and 4 pm in local time as Suu Kyi reached Tokyo on 20 October to attend the enthronement ceremony of emperor Naruhito.

She met with Japanese Prime Minister Shinzo Abe and light heavyweight world champion Aung Lan Sang's family in Tokyo.

U Kyaw Than Hlain, chairman of Arakan Youth Union based in Japan informed that they assembled in front of Myanmar embassy in Tokyo with an aim to express their resentments against Suu Kyi because she ordered Myanmar Army to target Arakan Army.

"The battle in Arakan has been escalating in the last few weeks. She (Suu Kyi ) is recognized as an icon of democracy. So she should have tried to resolve the problem without using arms. Our people in Japan have gathered here to oppose her actions," said U Kyaw Than Hlain.

The leader delivered his speech in three languages namely Burmese, Arakanese and also Japanese.

U Soe Naing, vice-chairman of Arakan Youth Union (Japan) claimed that Myanmar security forces were conducting operations in various ethnic areas of Arakan. Many Arakanese have lost their lives. A lot of Kachin civilians are being killed by Tatmadaw.

"But Suu Kyi remained silent. However, being head of the State Suu Kyi has the responsibility for the matter. So we opposed her actions in the conflict zone," he added.

One Kachin ethnic youth, who joined the demonstration, asserted that if the government in NayPieTaw wants to gain trust from the ethnic people, it has to stop the ongoing war in Arakan.

The demonstrator asked for five point-demand from the government including 'to stop prohibition on help and relief distribution in IDP camps', 'to open internet communications in the remaining township', 'to recognize the freedom and self-determination in Myanmar asked by ethnic nationalities', 'to release all Arakanese political prisoners unconditionally' and 'to allow journalists inside and outside Arakan to report freely'.

They also urged the government to stop offensives in ethnic localities.