Helicopters and Navy boats attack positions near Manaung and Set Kaw Villages, Buthidaung Township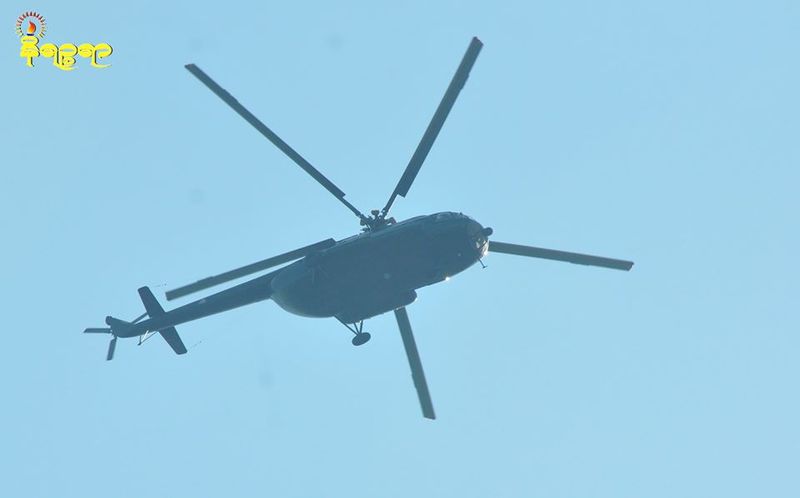 Khaing Lu Hla (Yoe Ma Mye)
Narinjara February 18th 2020

This evening heavy fighting took place in numerous places between Manaung and Set Kaw Villages Kway Yine Khat Village Tract, Buthidaung Township, Rakhine State. Two Tatmadaw helicopters and two Myanmar navy boats were used in the strikes, causing fires in a number of houses in Manaung Village.

The attacks took place after the Arakan Army (AA) attacked a Myanmar navy vessel travelling upstream along the bank of the Mayu River, between Thamee Hla and Set Kaw Villages.

After hearing the sound of artillery and machine gun fire, residents from Oh Pauk, Thamee Hla, Thapyay Seik and Zee Kaung Villages on the east side of the Mayu River fled their homes to seek safety in Thay Kan Gwa Sone in Buthidaung, according to one villager who left their village.

"It was after dark so we were unable to count and make an exact list, so we don't know the precise number. The local monk said that there were around one thousand people including both previously displaced persons along with the new arrivals," according to one displaced villager from Oh Pauk.

Similarly, it is understood that displacement on the west bank of the Mayu River has also occurred, with people in Manaung, Set Kaw, Thar Zee, Kyein Kyaung, Doe Way leaving there homes to seek safety in the vicinity.

"At the moment we are in Taung Maw Village. Manaung and Set Kaw Villages were where the helicopters attacked, that was where the fighting was most concentrated. I heard the helicopters carrying out strikes for about 5 minutes. Some houses caught fire in Manaung Village, everyone in the area could see it, although we don't know how many houses were burnt. Navy boats were firing until past 5pm" he said.

One villager noted that a drone had been spotted taking photographs of villagers while fleeing from Kyein Kyaung Village.

Separately, it is understood that three explosive shells that fell close to Oe Thay Ma Village, Buthidaung this evening did not cause injuries.