Protestors in Japan demand Myanmar authorities provide protection and security for those living in Rakhine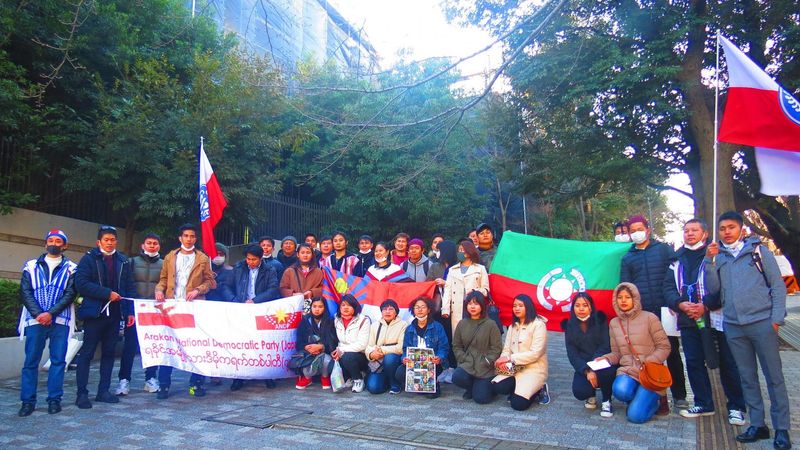 Sittwe March 1st 2020
Several groups representing Myanmar ethnic minorities have held a demonstration in Japan demanding the Myanmar authorities provide security to people and property in Rakhine State.

The Arakan National Democratic Party (ANDP), the AUN groups and a Kachin and a Karen organisation came together and protested in front of the Myanmar Embassy in Tokyo.

"We demand that the current government and the military put an end to human rights abuses against the Rakhine people, that the civilian government, which had formally opposed the previous military dictatorships, take action against the military leaders for the sake of national reconciliation and internal peace, that they stand up for truth and take full responsibility for the lives and security for those people who are suffering" Ko Thet Tun Aung, the general secretary from the ANDP (Japan) said.

Internet has been cut off in 8 townships in Rakhine as well as Paletwa Township in Chin State for a total of 252 days, making it the world's longest internet shutdown. To prevent an information blackout internet services should be resumed, according to ANDP-Japan leader Ko Bone Myint.

"We condemn attempts to suppress the news and violate human rights. Internet censorship is a public issue and is detrimental towards peoples' education, their businesses and the economy and their health. We are calling for the government to resume internet services as soon as possible and to help the displaced people to live with dignity" Ko Bone Myint said.

AUN Chairman U Mine Kyaw Oo, Karen Organisation leader Ko Saw Lin and Kachin leader Ko Dweh Ja demanded that internet services be resumed in Rakhine State and for the Tatmadaw to cease operations in ethnic areas.

Approximately 60 people attended the protests.

They explained that armed conflict in Rakhine State has resulted in numerous casualties, children have lost the right to education, people have fled their homes to IDP camps, violations of people's rights, the deaths of children, students, pregnant women and families has occurred.

According to human rights organisations, during the course of the current conflict there have been over one hundred civilians who have died, over 230 wounded, and over 500 suspects arrested. Currently there are over 100,000 people displaced.

The event was held from 3 pm to 4:30 pm local time.