Drought threatens areas of Rakhine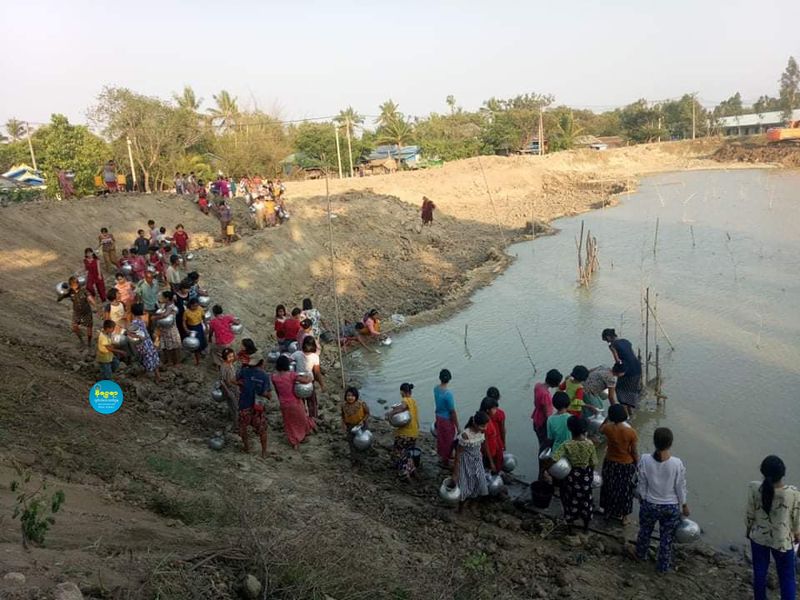 Htun Khaing (Taung Yin Kyun)

Narinjara News, 11 May 2020
Some areas of Rakhine State have started to experience drought conditions, Narinjara has learnt.
Townships where there has been a shortage of water include Pauktaw, Kyaukpyu, Ann, Minbya, Mrauk Oo, Rathetaung.
Pauktaw Hluttaw MP U Aung Kyaw Htwee spoke with Narinjara. "Water is particularly scarce in Beronga Thone Island, it isn't completely dry yet though. We face water shortages every year around this time, it's always the same. And as water becomes increasingly scarce, people have to travel further and further to fetch it", he said.
It is routinely seasonal in Rakhine State for there to be flooding during the rainy season and droughts during the summer, he added.Similarly there have been reports of villages in Kyaukphyu Township facing droughts.
According to Ko Kyaw Naing Htun who carries out out philanthropic work in the township, the following villages have been particularly affected: Ba Yar, Chaung Hpyar, Taung Gyi, Ah Htet Min Pyar.
"Water has become really scarce. We are providing support as much as we can but we just can't keep up. Water supply is always problematic after the first month of the new year after Thingyan. At the moment there is some water left, but it isn't clean, it can only be used to water cattle and such. At present, we cant get water that is clean enough for people to drink", Ko Kyaw Naing Htun said.
He added that there are also water shortages in Kyaukphyu town and surrounding villages.

Ko Myo Lwin said that some villages in Ann Township are facing water shortages.
According to the Ministry of Health and Sports' announcement issued on the April 16, legal action will be taken against those breaching the Prevention and Control of Communicable Diseases Law which prohibits five or more persons from gathering. However, in many places facing drought, restrictions on the time water ponds are open mean that ponds are frequently crowded with people jostling together to fetch water, one local resident said.