Total of 109 terrorism related charges in Rakhine State, says State Advocate General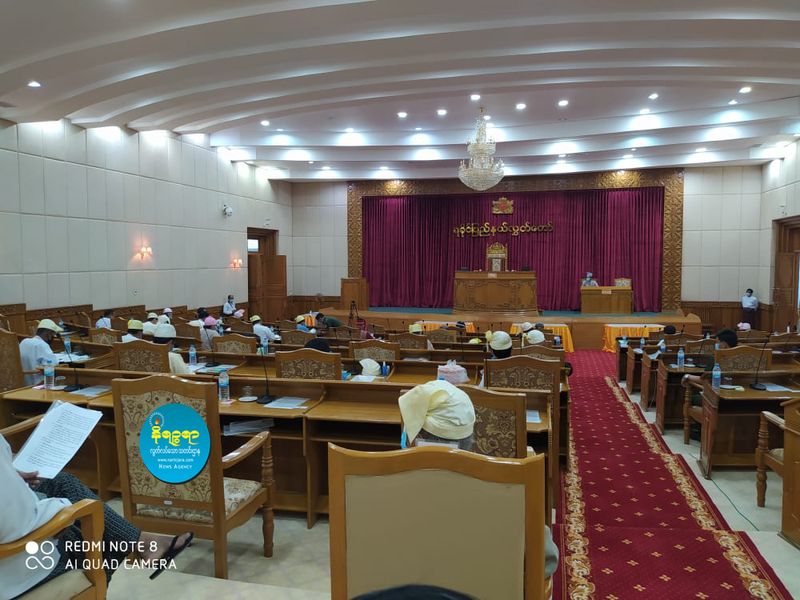 Ein Soe Hpyu
Narinjara May 20, 2020

A total of 109 charges have been filed under Counter Terrorism legislation in Rakhine State according to State Advocate General U Kyaw Hla Htun. The cases have been heard across 13 townships up until March 23, 2020, he said.

The Chief Legislator U Kyaw Hla Htun made these remarks in response to Mrauk Oo Township State Hluttaw U Htun Thar Sein who asked if those charged of terrorism before the national governments March 23rd announcement that the AA is a terrorist group should have their charges withdrawn. This happened on May 20 during the second session of the second day in Rakhine Hluttaw's 13th session.

Rakhine Chief legislator U Kyaw Hla said "If the case has been filed and the case is adjourned, the relevant legal body must apply to withdraw it. The relevant legal bodies must apply according to Section 494 of the Criminal Code. This must be carried out according to court procedures. It is a matter of the legal body or the prosecution to decide whether to withdraw," he said.

There was little disagreement between the Hluttaw representative's questions and the response of the Chief Legislator.

Rakhine State Hluttaw Speaker U San Kyaw Hla commented on the matter. "Here the nature of law can be complicated. There is also a question about the parliamentary candidacy. I understand that as a legislator there is a problem here. Therefore, I would like to recommend the Supreme Court to ask questions and provide answers" he said.

Prior to May 23 there has been a total of 109 charges under the Counter-terrorism legislation and in connection with the AA. 18 cases in Sittwe, 8 in Ponnargyun, 29 in Kyauktaw, 19 in Mrauk Oo, 3 in Minbya, 7 in Myebon, 4 Kyaukhpyu, 1 in Man Aung, 14 in Ann, 1 in Thandwe, 3 in Taungup (including Ma Ei Sub Township), 1 in Buthitaung, and 1 in Rambree.