UN Special Envoy Visits Sittwe and Meets with ANP Leaders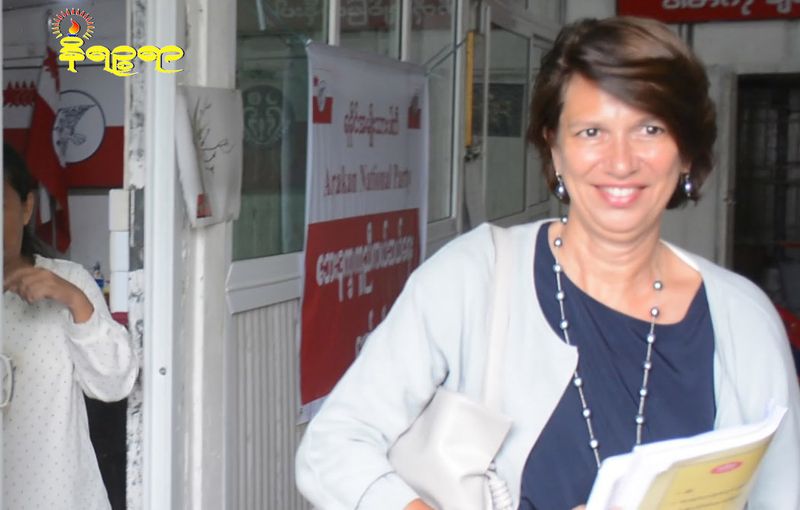 Manyu Kyaw (Shwe Wa Mray), 11 July 2019:

Special Envoy of the UN Secretary – General Mrs Christine Burgener and delegation visited Sittwe and met with Arakan National Party Leaders in their Headquarter yesterday.

In the short-time meeting, the Special Envoy talked with the ANP's senior leaders about the current situation in Rakhine and what are the people of Rakhine's challenges along with the policies of the ANP's on upcoming election.

Daw Aye Nu Sein, the spokesperson of the ANP said " According to the ongoing situation, it is bad condition for IDPs during the rainy season. They cannot go to the farms and not work properly to get earn. The local villagers cannot go to the mountain for their regular work and markets are close. There is no freedom of moment and basic restriction brings a lot of difficulties here. So we presented about that."

She confirmed that Mrs Mrs Christine Burgener committed that she will address about those issues when she met with the government officials and Tatmadaw leaders .

"In term of election, we presented about the ongoing internet shutdown and imposing of 144 which may be obstacle to hold the election. Especially, NLD and USDP have never won over ANP for the previous election in the north and they persuaded in the South more than before. Moreover, the big gap of budget allocations which look like electioneering from the people of the south for the election. We also presented how we are hearing not to become election and some attempting to grow the conflict," she added.

It is learnt that during her two- day- visit, Special Envoy visits Myebon Muslim Camps and meet with Rakhine IDPs and CSOS in Sitwe.