Eight members of UN Security Council call for immediate end to Rakhine war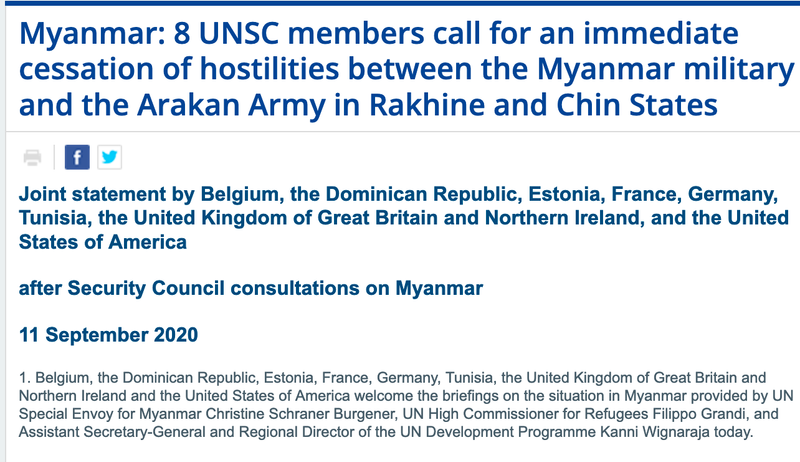 Narinjara 14, September 2020
Eight members of the UN Security Council (UNSC) issued a joint statement on September 11 calling for an immediate end to fighting between the Myanmar Army and the Arakan Army (AA) in Rakhine and Chin states.
Eight out of 15 council nations of the UNSC included permanent as well as non-permanent members. The eight countries are United States, United Kingdom, France, Germany, Belgium, Estonia, Dominican Republic and Tunisia.
"In this regard, we are concerned by the continued clashes between the Myanmar military and the Arakan Army in Rakhine and Chin States and by the heavy toll this continues to take on local communities. Recalling the UN Secretary-General's call for a global ceasefire as supported by Security Council Resolution 2532, we call for an immediate cessation of hostilities and a halt to all activities that risk fuelling or escalating the situation. We also call for safe, full, and unhindered humanitarian access to all vulnerable populations and the full restoration of internet access in the affected areas", the statement read.
The eight countries urged Myanmar to speed up efforts to address the long-term causes of the crisis in Rakhine which led to over 700,000 Rohingya Muslims being forcibly displaced from their homes to Bangladesh due to violence perpetrated by the Myanmar military in 2017.
The statement reminded Myanmar that it is under obligation to comply with the provisional measures order of the International Court of Justice, and encouraged Myanmar to lift restrictions on access to health, education and basic services, freedom of movement, and implement the Internally Displaced Persons (IDP) camp closure strategy. They also encouraged Myanmar to intensify dialogue with Bangladesh to agree to a way to ensure the safe return of refugees.
The briefings on the situation in Myanmar were provided by UN Special Envoy for Myanmar Christine Schraner Burgener, UN High Commissioner for Refugees Filippo Grandi, and Assistant Secretary-General and Regional Director of the UN Development Programme Kanni Wignaraja.