Senior police officer killed in Arakan landmine explosion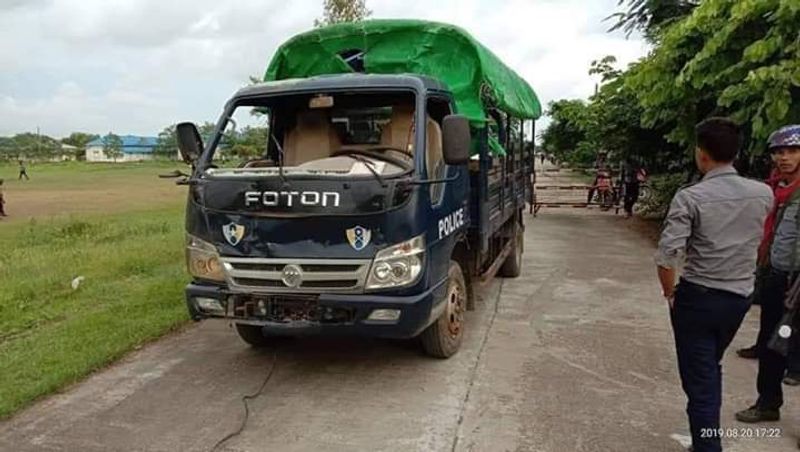 Narinjara News, 21 August 2019
A senior police officer was killed in landmine attacks by rebels under Ponna Kyunt township, 20 miles north of Arakanese capital city of Sittwe on 20 August, where four other police personnel were seriously injured. The victim has been identified as Thaung Lwin, a superintendent of police.
According to authorized person and family members, the landmine attacks took place at two locations on Sittwe-Yangon high way near to Ponna Kyunt town at around 9:30 am as the police convoy was moving on its way to Sittwe from Kyauk Taw township, which is 80 miles away from the Rakhine capital city.
Western command spokesperson brigadier Win Zaw Oo informed that the first explosion was little weak, however the second one was massive and it could hit five police personnel. The landmine attacks were suspected to be engineered by Arakan Army rebels, he revealed.
Soon after the explosions, injured police personnel were taken to Ponna Kyunt township hospital through four ambulances owned by local social organizations, where the police superintendent was declared dead. Four police personnel are recovering in the hospital, informed U Tun Maung, who is a Pyithu Hluttaw member of the township.

Daw San San Htay, the wife of police officer Thaung Lwin said that she got the news in the morning hours. She also added that at that time they were in Mike Htilar, a central Myanmar locality, when some police senior officers came to their residence to inform about the incident.
"It is confirmed by the authority that my husband has expired. But for me and my family it is still a hard truth to believe," she added.

In another incident that took place in Kyauk Taw township, a police officer was attacked by miscreants with knives on 19 August. The injured police officer was immediately taken to Sittwe hospital where he is under treatments for serious injuries.