National hero Sayadaw U Ottama remembered on the death anniversary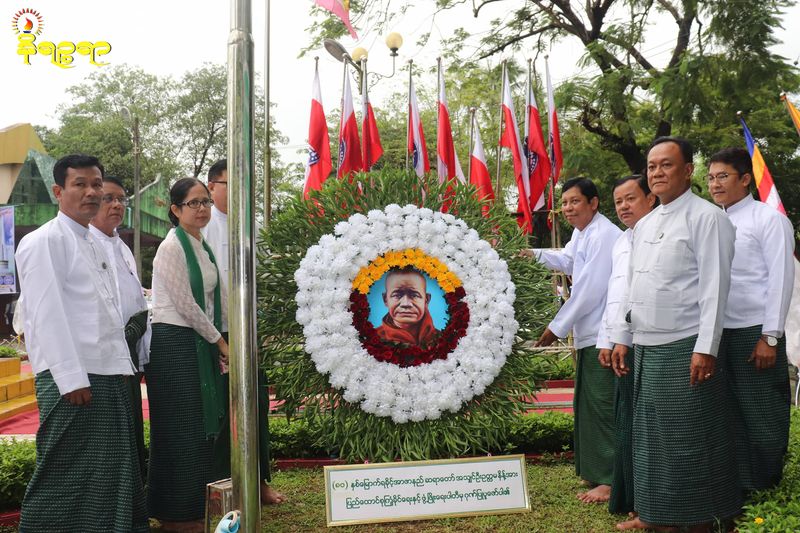 Narinjara News, 10 September 2019
80th death anniversary of independent hero Sayadaw U Ottama was observed in several towns of Arakan on Monday amidst the ongoing conflicts between Myanmar Army (Tatmadaw) and Arakan Army (AA) members almost across the State.

In the Arakanese capital city of Sittwe, a large number of people representing government departments, political parties, socio-religious organizations, student & women communities etc marched to U Ottama memorial monument at Ottama garden to pay tributes to the monk. The banners and wreaths, carried by the participants, were in memory of U Ottama's immense sacrifice for Myanmar's independence.

Considered as the architect of Burma's freedom struggle against the colonial British rulers, Sayadaw Ottama died on 9 September 1939. Born in 1879 in Sittwe, U Ottama emerged as an influential monk of Rakhine and he successfully organized Burmese people against the colonial forces.

In fact, he was the first Buddhist monk in Burma to be arrested by the British and sent behind the bar. After years of imprisonment, U Ottama died in Rangoon suffering from diabetes.

The date of his demise is recognized as the Ottama Day that resembles the Arakanese uprising against the British as he was instrumental in the Burmese freedom movement.

Organizers of the event in Kyauk Taw town, U Mg Thein informed Narinara News that everyone in Arakan maintains a great sense of respect to Sayadaw U Ottama for his contributions to Myanmar freedom struggle. The specific celebrations were aimed to make young people aware of the history in the right perspective, he added.

Last year, the ceremony was organized by the Rakhine government in Sittwe, but this time it avoided the celebrations. Local people believe that the authority was more concerned about the ongoing conflicts and did not want any unusual developments.

However, Yangon Region Rakhine Ethnic Affairs Ministry organized the celebrations in the Yangon division with limited programs and participants. Arakanese people living in Bangladesh, Thailand and Japan also observed the Sayadaw U Ottama day with fanfare.