300 monks pray for convicted Rakhine migrants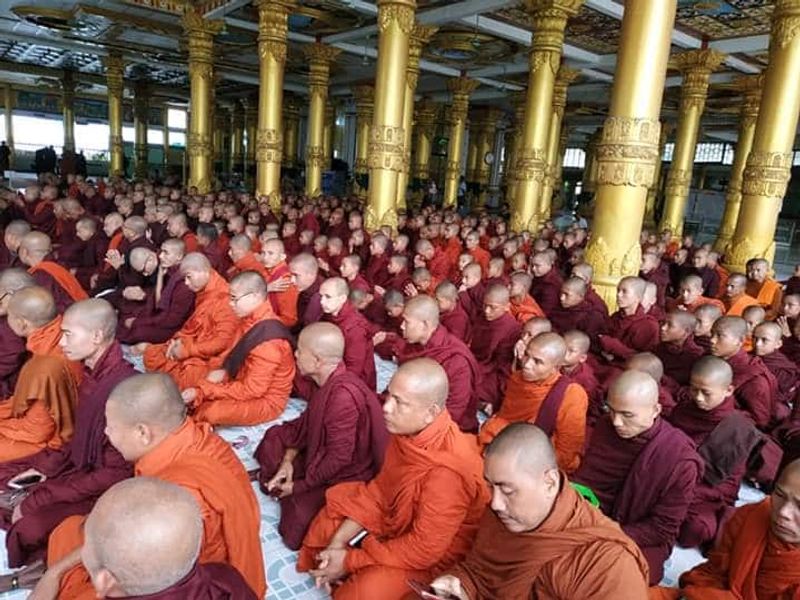 by Ne Min Tun, 11 September 2019
Nearly three hundred Arakanese monks gathered at a famous temple of Sittwe on 9 September to pray for two convicted Rakhine youths who face executions in Thailand.

Organized by a priest organization named Monk Organization for Disciplinary and Assistance at Atula Marazin Buragyi temple, the prayer session was in favour of Ko Zaw Lin and Win Zaw Tun, both of whom were convicted by a Thailand court and sent for capital punishments.

U Damika, a member of the organizing committee informed that the prayer campaign was for Ko Zaw Lin and Win Zaw Tun so that they might get the relief from death sentences.

Meanwhile, the Myanmar government on behalf of the families of Ko Zaw Lin and Win Zaw Tun has sent a plea to the Thailand government for their clemency. They are expecting a good news from the king of Thailand.

Mentionable is that Supreme Court of the neighbouring country on 29 August upheld the conviction of both the Rakhine migrants for the murder of two British backpackers on a resort island of Koh Tao in 2014.

"We are expecting Thai king's pardon for both the convicted migrants," said U Damika.

Both the Rakhine migrants were sentenced to death by Koh Samui court in December 2015 for killing British nationals namely Hannah Witheridge (23) and David Miller (24). Later the apex court of Thailand upheld the verdict.

Earlier, family members of Ko Zaw Lin and Win Zaw Tun have separately appealed to the Thailand ruler for pardoning both of them (from death sentences).