Encounters between Tatmadaw and AA broke out in two Arakan townships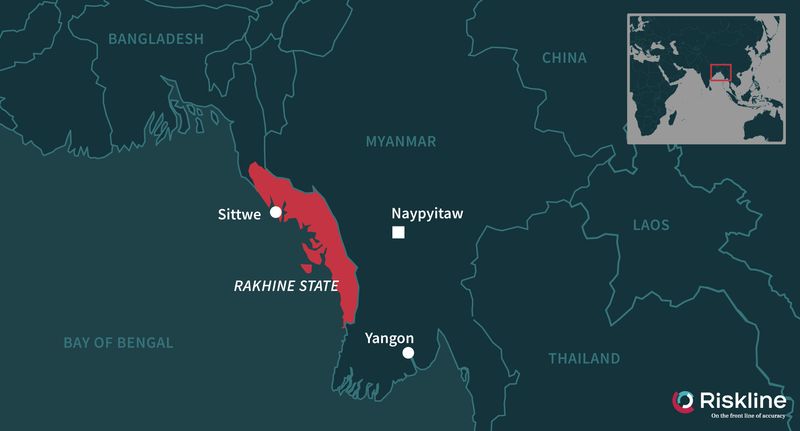 Narinjara News, 3 October 2019

Armed clashes between Myanmar security forces (Tatmadaw) and ArakanArmy (AA) members broke out in two northern townships of Arakan on 29 September, where three civilians received injuries.

Residents of Miwa village under Kyauk Taw township namely U Tha Tun Oo (63), Maung Naing Lin Soe (22) and Thaung Htay sustained injuries as the encounter took place near to their village adjacent to Kaladan river.

Father of Maung Naing Lin Soe informed that they were working in their farmland for seasonal crops at 8 am on Sunday and suddenly heard the sound of firings from the riverside.

"We all tried to hide under a big mango tree and then a bullet hit my son. But fortunately, the injury is not much serious," added the local farmer.

However, another villager named U Tha Tun Oo received serious injuries and he was sent to Sittwe general hospital for necessary treatments.

"The bullet hit on his back and the shell was already taken out by the operation. His condition is improving now, but may have to continue treatments for some days," he revealed.

According to the local sources, AA members attacked a ferry ship operated by the security forces on the Kaladan river near to Miwa village in the morning hours. The soldiers retaliated with several gunshots towards the mountain range. Those artillery shells are suspected to wound those three locals.

The other encounter broke out at Nwa Yon Daung village under Buthidaung township between 8.45 and 3 pm.

According to the local villagers, the fierce fighting took place in the middle of Nwa Yon Daung and Khun Daung village. The soldiers continued firing artillery shells from its Buthidaung base for all the hours.

Western command spokesperson Brigadier Win Zaw Oo confirmed the clashes in Kyauk Taw and Buthidaung township.

"Our troop on a navy ship in Kaladan river carried out security exercises when AA rebels attacked from a mountain range at the back of Miwa village. The soldiers retaliated immediately. However, I do not have any input about the injury to the civilians," he asserted.

Since December last year, Arakan in western Myanmar has witnessed thekilling of 80 civilians and injuries to over 100 people by the armed clashes between security forces and AA members.