Bullet wounded schoolgirl sent to Sittwe hospital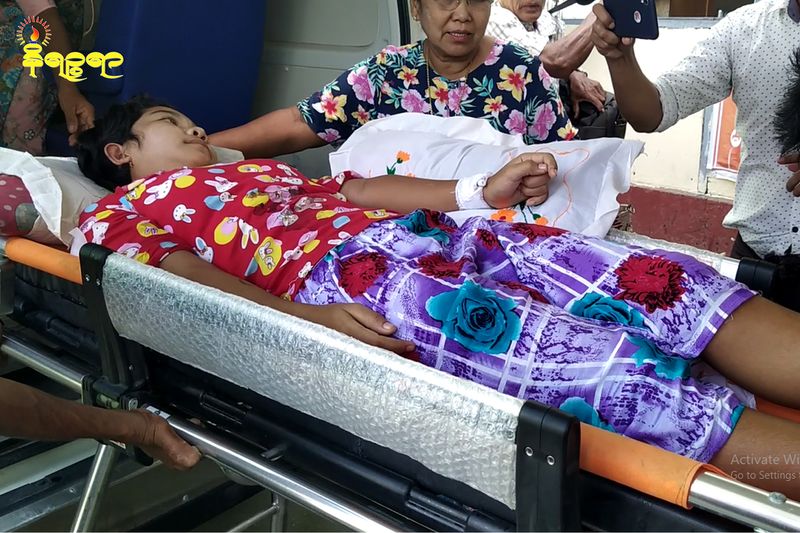 Narinjara News, 4 October 2019
A bullet wounded schoolgirl of the eighth standard named Ma Mya Thazin from Zayditaung IDP camp in Buthidaung of northern Arakan was shifted to Sittwe general hospital on Thursday with critical injuries.

The family source confirmed that she was sent to the hospital by a speedboat provided by ICRC for better treatments.

"Ma Mya Thazin (14) was transported to Sittwe from Zayditaung administrative unit hospital by the ICRC speedboat at 8.30 am and she arrived there by 11.25 am. She was wounded by an artillery shell at
her belly and it is understood to be serious," said the family members.

She is expected to pass through various tests including an X-ray at Sittwe hospital to understand the gravity of injuries.

On the fateful day, Ma Mya Thazin was sleeping inside the camp at Zayditaung village and the incident took place at around 4 pm.

Her mother Daw Hla Thein Khin informed that the bullet came from the northern side of Nwa Yon Taung village where there is an army camp.

Many people believe that the artillery shell was fired by the soldiers.

According to villager sources, the soldiers used to fire small gunshots before the artillery shells. One of the shells hit the schoolgirl.

The western command spokesperson Brigadier Win Zaw Oo, while contacted by Narinjara News, stated that he had no information about the incident. He claimed, "There was no fighting and hence no firing in the locality that day."

Mentionable is that there are over 1000 people taking shelter in the Zayditaung IDP camp. They hail from 11 nearby villages like Nwa Yon Taung, Kaun Taung, San Go Taung, U Yin Tha, Sapahta, Kan Byint etc and
fled their villages because of fierce fighting between Tatmadaw and AA.

"We came here believing the camp a safe place. But the camp too becomes insecure for us. But where will we go from here?" asked the mother of Ma Mya Thazin.