Abandoned house-groceries robbed in Rathidaung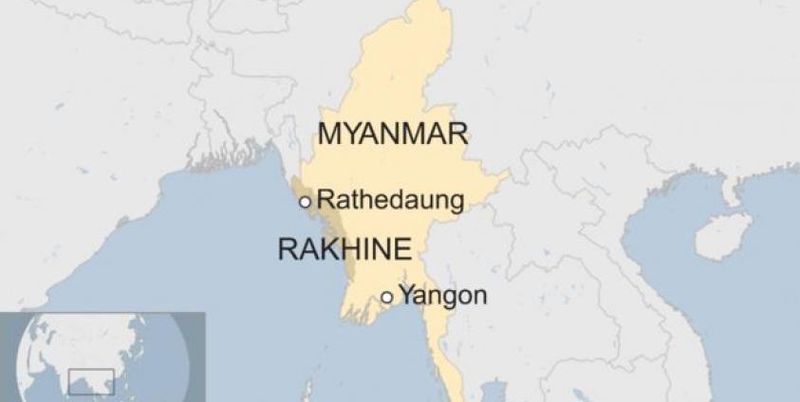 Narinjara News, 8 October 2019

Some residential houses and groceries in Htee Swe village under
Rathidaung township, 20 miles north of Arakan's capital city Sittwe,
were robbed on Monday as the entire village was deserted by its
residents because of fierce fighting between Myanmar Army (Tatmadaw)
and Arakan Army (AA).

AA members attacked a navy ship carrying soldiers
that arrived at a Htee Swe village jetty. The villagers soon fled to
safer places as they feared retaliation by the security forces. The
incident took place as the villagers were not present there.

Many items like cooking oil, noodle, cigarette, kitchen item,
telephone sets and even pots filled with fuel from the groceries were
taken away by the burglars, informed a local grocery owner.

Few grocery owners even accused the troops of committing the crime taking
advantage of the situation.

Grocery shops owned by U Pru Pru, U Maung Than Tun, Daw Khin San Aye
etc and a telephone trading stall belongs to U Than Naing Htay were
robbed by the burglars.

Daw Khin San Aye, a resident of Htee Sway village, informed that her
family was taking shelter in a different village since 5 October last.

They own a shop in the village where some phone items were
stored in their village houses. She came to know that some soldiers
had broken their houses and snatched away the items.

U Khin Maung Latt, a representative in the Parliament from Rathidaung
township admitted that he got the information about the incident and
villagers alleged that some soldiers were behind the crime at Htee
Sway village.

"I am gathering information about the incident and proposing a
discussion in the upper house of Parliament," he stated.

Brigadier Win Zaw Oo, the spokesperson of the western command,
however, denied it and clarified that there were no security forces in
that locality. Rather he accused AA members of committing the crime.

Narinjara tried to contact AA spokesperson for their views on the
incident through telephone, but it was not succeeded.