Fighting continues in Arakan, two youths wounded in bullet-injuries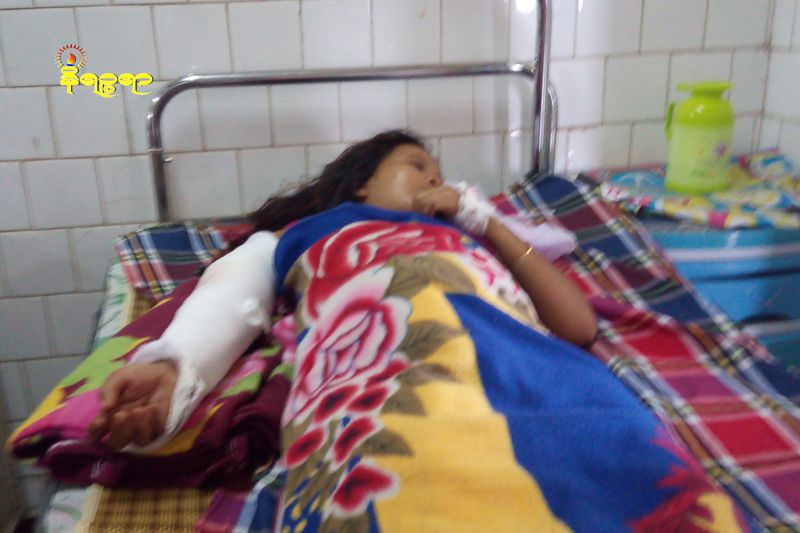 Narinjara News, 1 August 2019:

At least two young people including a pregnant lady received bullet-injuries when the security forces allegedly opened fire in various locations near Mahamuni ancient temple in Kyauk Taw township, 80 miles north of Arakanese capital city of Sittwe, on Wednesday evening.

Mahamuni temple trustee U Nyo Tha Hla informed that his grandson (Kyaw Thet Tun) has received bullet-injuries when Kyaw Thet Tun was returning home from the temple on a motorbike. Another 24 year old pregnant woman (Ma Aye Myint) also sustained injuries.

"Both of them (with bullet-injuries) have been treated in Kyauk Taw township hospital and they are now recovering. My grandson got injuries on his back where the lady received injury to her right arm," added U Nyo Tha Hla.

According to local sources, the searching Myanmar Army soldiers faced a group of Arakan Army rebels at Taung Thet Len locality, which is one mile away from Mahamuni temple, and soon launched an offensive at around 5 pm (on 31 July). A number of soldiers gathered at the temple
premises and went on firing on nearby locations.

U Tun Tha Sein, a local lawmaker in Rakhine State Parliament also confirmed that the incident took place near the temple and he heard the sound of bullets that hurt both the young people. He also informed that several landmines were exploded at two locations- one near to Bura Gyi village and next one adjacent to Thetyet Taphin curve on Yangon-Sittwe highway under Mrauk U township.

Another round of encounters between Myanmar Army soldiers and Arakan Army rebels took place in a nearby location to Myin Ka Site village under Min Bya township. Over 1900 villagers from the locality have left their residences out of fear and presently taken shelter in downtown Min Bya along with other safe refuges.
( Photo: The pregnant woman, Ma Aye Myint, was taken to Sittwe general hospital from Kyauk Taw Township hospital today morning)