AA claims shooting down army helicopter, Tamadaw denies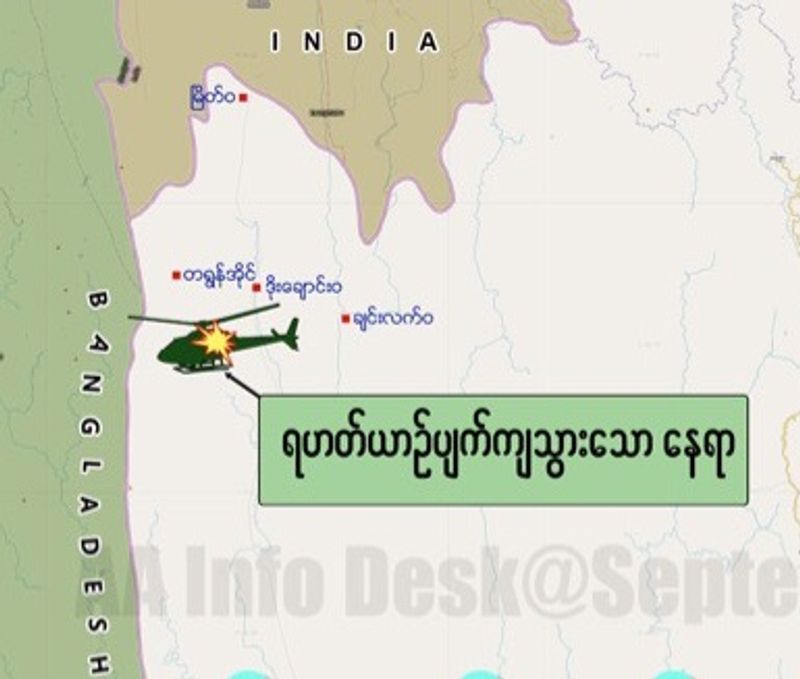 Narinjara News, 7 September 2019
Arakan Army (AA) claims that its members have gunned down an army helicopter in Plaletwa township of Chin State near the Indian border on Thursday, but the Myanmar security forces denied it.
The revolutionary group stated in a press statement that its forced successfully gunned down the helicopter at 3.30 pm on 5 September last.

The helicopter is understood to be a Mi 17 and the location is somewhere at 5.5 kilometer northwest of Kathalin village, 2.4 km west of Laung Yet Taung village and 900 meter east of Kan Kha mountain range where the helicopter was shot down, said the AA statement.

Office of the commander in chief spokesperson Brigadier General Zaw Min Tun, however, denied the AA claim and informed Narinjara News over the telephone that there was no report of such incident in the area.

"There was nothing to talk about it. We have already issued a statement yesterday that a helicopter from Nepal urgently landed in Buthidaung township because of bad weather," said Zaw Min Tun adding that there was no evidence to prove the AA claim.