AA raids army's temporary artillery base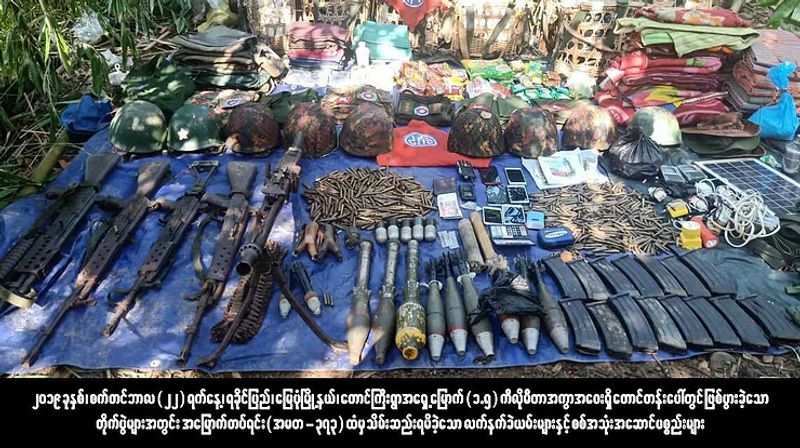 Narinjara News, 26 September 2019

Arakan Army came out with the claim that its members have occupied a
temporary artillery base of Myanmar security forces in the front line
of Myebon township on 22 September after three hours of fierce
fighting.

Khaing Thu Ka, spokesperson of AA informed Narinjara that the occupied
artillery base is centrally located in Arakan (Rakhine) province and
the security forces often used it for firing artillery shells on AA
members.

AA issued a statement on 23 September with a photograph of the seized
ammunition and other items from the artillery base belonging to
Myanmar Army's artillery battery no 373.

The statement also added that AA found 10 bodies of soldiers, 5
sophisticated arms including one MG 42 machinegun, four MA assault
rifles, 60 mm mortar shells, three RPG propelled grenades, nine combat
helmets, 18 baskets of ammunition etc with few cell phones in the
base.

Myanmar Army personnel and AA members have been fighting on the
localities since 21 September and the next day AA succeeded in
capturing the temporary artillery base after three hours of heavy gun
fires.

According to AA spokesperson, the security forces retreated after the
fierce fighting hours and AA armed members have conquered the base
finally. Three AA members sustained injuries in the encounter, added
Khaing Thu Ka.

However, western command spokesperson Brigadier Win Zaw Oo denied that
AA could occupy the artillery base in the area.

"We have reports about the fierce fighting with AA members in Myebon
township, but no military artillery base had fallen to them," asserted
Win Zaw Oo.

The encounter in Myebon township continued for five days from 21
September and the army even conducted airstrikes on AA members by four
helicopters on 25 September.

Meanwhile, many villagers from Yosa Non
locality, which is adjacent to the battlefield, left their residences
for safer places including Downton area under Myebon township.