Ramree Youth Network member faces charges under Peaceful Assembly law after protesting against internet shutdown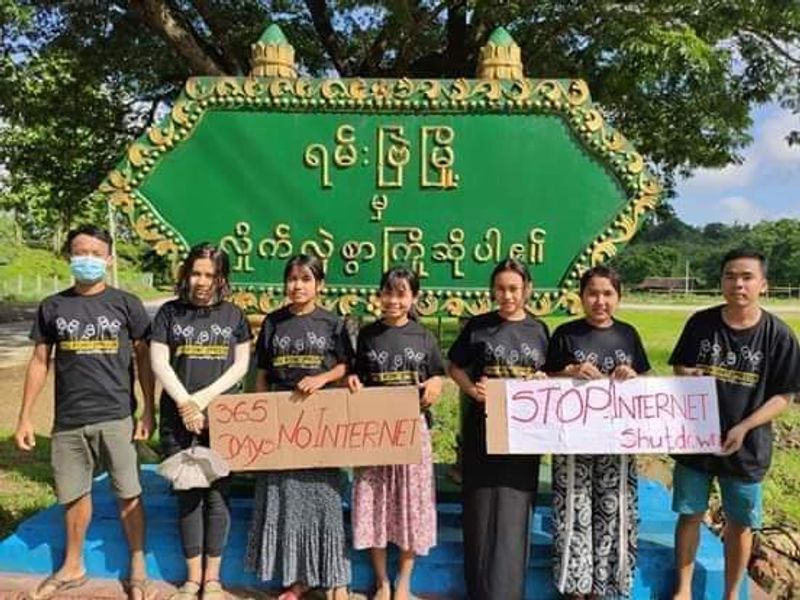 Saung Zar Kyi

Narinjara News, 24 June 2020
One year into the internet shutdown in Rakhine and police have charged Ko Myo Min Tun with violating section 19 of the Peaceful Assembly law. He works in communications for the Ramree Youth Network group
"Our youth group took photos at the entrance to the town holding banners showing the words 'One year of internet blackout'. We posted the photos on Ramree Youth Group's page, I also put it on my account. The police said that we had done this without informing them, and so Ramree township police chief Zaw Win on 21 June opened a case against me," Ko Myo Min told Narinjara.
Members of the Ramree Youth network had organised the event at the entrance of Ramree town yesterday afternoon to observe one year of internet blackout in parts of Rakhine and Chin state.
"I am tasked with communication and coordination with the other youth networks in all of Rakhine's 17 townships, and now I am facing charges. I will have to attend court on June 23 or 24, I am not sure yet" he explained.
As of June 21 internet services have been suspended for a full year in seven of Rakhine's townships, and Paletwa township in Chin state. Numerous civil society organisations and social activists from a number of towns and cities across the country, including Sittwe and Yangon, have staged events calling for internet services to be resumed. Many have posted pictures of their protest banners on social media networks.
"We want the internet back. The blackout is detrimental to society, to education and to people's health in Rakhine state," Ko Myo Min Tun said.
The internet has been blocked in parts of Rakhine state and Chin state's Paletwa since June 21 2019.